Modern-day technology allows us to have a large variety of options when it comes to practicing Spanish, and using portable MP3 players is a practical way to incorporate additional hours of practice throughout the day.
It is also a great way to improve your listening and comprehension skills while learning new vocabulary and useful phrases in Spanish. Today we will use music as a learning tool and employ the power of dual translations to accelerate the process of learning Spanish for beginners.
Juanes  is a successful singer and songwriter from Colombia whose full name is Juan Esteban Aristizábal Vásquez. As you may have guessed, "Juanes" is a short version of JUAN Esteban.
This talented artist began playing guitar when he was 7, and later decided to start a heavy metal band known as Ekhymosis  back in 1988. Here is a photo of what they looked like back then (Juanes is the second one from left to right):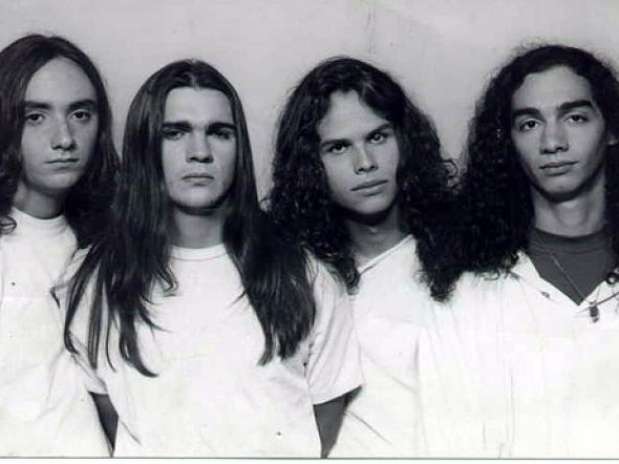 Now it's time to take a look at today's song. In order to make the most of it, I suggest you follow these instructions:
First, play the video and listen to the entire song while reading the lyrics in Spanish (make sure to pause as much as needed in order to read the entire song in Spanish).
Second, play the video again and pause often in order to read the lyrics in Spanish and the English translation.
Third, play the video one more time. This time, without reading the lyrics. Understanding most of the song should be much easier this time.
It's time to make it happen, ready? Here is the video…
Es por Ti by Juanes – Spanish song Lyrics Translated to English.
One of the most important aspects of learning Spanish is making sure you select study materials that are interesting and fun so you can practice frequently. Get a few songs by Juanes into your MP3 player and practice during your everyday activities like buying groceries, running or driving.
Find mores songs in Spanish with Lyrics here:  More
Do you have any questions about Spanish? Do you have any comments about the song? Would you like to say "hola"? Well, feel free to share your thoughts in the comments section available at the end of this post.
If you found this post useful, please share it with your amigos on Facebook by clicking on the social buttons that you can see below this paragraph. Please help us help more people learn Spanish. Thanks!